Romantic Couple's Massage
Majestic's Romantic Couple's Massage treatments focus on your want and needs. It's perfect for a special occasion or just a date night.
| | |
| --- | --- |
| Monday-Friday | 8:00-11:00 |
| Saturday | 9:00-11:00 |
| Sunday | 11:00-9:00 |
Romantic Couple's Massage
You'll discover deeper relaxation, reduces soft tissue knots, trigger points, and joint stiffness with your Luxe In-Home Romantic Couples Massage. You'll enjoy your favorite amenities including a Bottle of Wine from our Private Selected Stock of White and Red Wines, A Bouquet of Flowers to enhance your sense of smell and to soothe your taste buds with rich aromatic flavors of Chocolate truffles. You'll join thousands of happy couples from all over the country where one bought the packages as a gift while succumbing to the full body experience that balances the mind-body and spirit. 
If you've been considering getting a Romantic Couple's Massage as a way to combat the stresses of everyday life with a partner, you've come to the right place. Majestic Medical Touch Spa has helped 1000's people like you in the Metro-Atlanta area reach peace of mind and gain a new perspective through integrated Romantic Couple's Therapeutic Massage. If stress is allowed to build up it can have a negative impact on our nervous system, musculoskeletal system, respiratory system, and overall health.
As you may already know how difficult stress can be to manage. Between work or school, a family life, and a social life, it can be extremely hard to decompress. That's where we come in. Don't let "no time" get in the way of "your time." Your Romantic Couple's Therapeutic Massage only takes about an hour and a half to perform and our flexible scheduling system allows you to book an appointment at your convenience.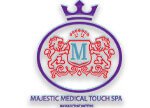 Are you looking to share your experience with your special person? Do you think that they will enjoy a custom massage to their specification of pressure and style side by side with you? If the answer is yes then this massage package is for you. You'll Enjoy these key benefits
Side by side massage

Longer service

In the comfort of your own Home

No travel time to the Spa and from the Spa
We use and blend a wide variety of Massage Modalities to give you the best of medical and relaxation massage that will leave you pain-free months and days after your service!
Affordable Luxury Treatments
Majestic Medical Touch Spa Romantic Couple's Massage services are designed for you to get the most out of your treatments. Majestic's Romantic Couple's Massage treatments focus on your needs and wants. We provide you with the best overall treatments in the places that you are more comfortable like your Home, Office, or Hotel so you reach maximum Relaxation.
Make An Appointment
We offer multiple option to book your Appointment. You can call 1-800 995-6753 or you can email us by filling out the box below or go Reservation page and schedule your appointment with our booking software.